Star Sponsors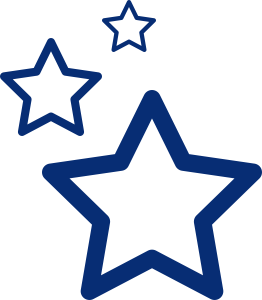 Become a Star Partner
In education and in business, earning a gold star is the pinnacle of success and represents the highest level of quality. The Arizona School Administrators, Inc. (ASA) corporate involvement program, the Star Sponsorship, will bring your company's work, and that of ASA, into closer contact, developing greater opportunity for mutual success. This mutually beneficial relationship plays an important role for both ASA and your organization.
The Star Partner program will allow your business or organization to enjoy more benefits with greater recognition through an elevated profile in the educational community. The program is positioned to meet your budgetary needs by offering varying degrees of involvement and recognition. ASA will ensure that every partnership is a success and will structure your Star Sponsorship benefits to reflect the involvement, presence and interaction with our members and attendees that best meets your needs.
Our sponsors are valued for their contributions to the students, staff, and educational community connected to ASA. Your support enables the ASA association to provide Arizona's educational leaders, their schools and districts with outstanding professional development opportunities, legislative and legal updates and an awareness of market trends and resources, program, and services to assist them in providing the best education available to the youth of Arizona.
Earn a gold star. Become an ASA Star Partner now.

5 Star Partner
$30,000 Annually
Participation in special ASA events
Premier exhibit booth at Fall Superintendent Conference, Institute for Excellence and Summer Conference
1 article in 4 quarterly newsletters
A full page ad insert in all conference participant folders
Listed as a 5 Star sponsor in publications and video messages
Verbal, printed, and on-screen recognition at ASA conferences
Banner on ASA website with link to corporate website
Name badge(s) with partner ribbon at ASA conferences
Printed advertisement in ASA conference programs
Membership roster with contact information
Current District Superintendent Members List
Opportunity to present ASA Webinars

3 Star Partner
$15,000 Annually
Exhibit booth at Fall Superintendent and Summer Conference
1 article in 2 quarterly newsletters
Listed as a 3 star sponsor in publications
Verbal, printed and on screen recognition at ASA conferences
Banner on ASA website with link to corporate website
Name badge(s) with partner ribbon at ASA conferences
Printed recognition in ASA conference agendas
Membership roster with contact information
Opportunity to present ASA Webinars

1 Star Partner
$5,000 Annually
Exhibit booth at Fall Superintendent and Summer Conference
Banner on ASA website with link to corporate website
Name badge(s) with partner ribbon at ASA conferences
Printed recognition in ASA conference agendas
Membership roster with contact information
Other benefits may be substituted
Opportunity to present ASA Webinars

Network Partner
$600 Annually
Advance notice for exhibit space
Discounted exhibit space at Fall Superintendent and Summer Conference